Welcome to PC P.I.'s Computer Store
Service of the past with products of the future.

Located in Dalton, GA
(Just South of Ringgold, GA & Chattanooga, TN & West of Chatsworth, GA)
Your desktop and laptop computer sales, repair & service specialist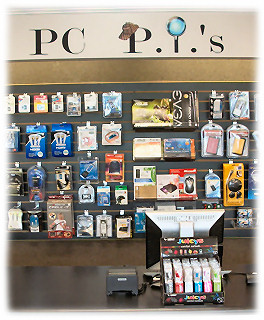 Thank you for visiting our home on the web, we also invite you to come see one of our computer stores in person, if you haven't already. Our Computer Store is conveniently located in Dalton, GA. You will find that we are very friendly, knowledgeable and eager to serve you.
We sell laptops & desktops, service laptops & desktops and repair laptops & desktops by any manufacturer. We have tons of parts in stock, which allows us to get your computer up and running quicker. We also stock most OEM AC adapters for laptops, as well as universal ones. If we do not have a part we can usually get it in just a few days.
We sell New and Refurbished Desktops and Laptops from all major brands, including Apple's MacBook and we carry top quality custom built & gaming computers. Desktop computers normally start at $199 and laptop computers normally start at $199. The best part about buying from a PC P.I.'s computer store is that if you have any problems, questions, or concerns we are local (Dalton) and if you have ever purchased anything and had to use their phone support you will appreciate and understand how important being local really is.
Our computers come with the best warranties around, ranging from 3 months to 3 years and a FREE LIFETIME LABOR WARRANTY ON PART REPLACEMENT ON THEM ALL. That means we will always fix them FREE, (even after your part warranty expires) as long as you own your computer. All you have to do is just buy the part(s) and you don't even have to buy the parts from us.
We repair all Apple Mac products including the MacBook, MacBook Pro & MacBook Air. If you need your screen replaced, your OS X updated or have any issues at all with you Apple Product, we can take care of it for you. Now if you live in Dalton, Tunnel Hill, Rocky Face, Chatsworth or the surrounding area you do not have to drive very far to get your Apple product repaired.
To find out more about our computer store products or services please check out their pages.
Our Computer Store is located in Dalton, GA (just around the corner from Ringgold, GA, Tunnel Hill, GA and Chatsworth, GA).